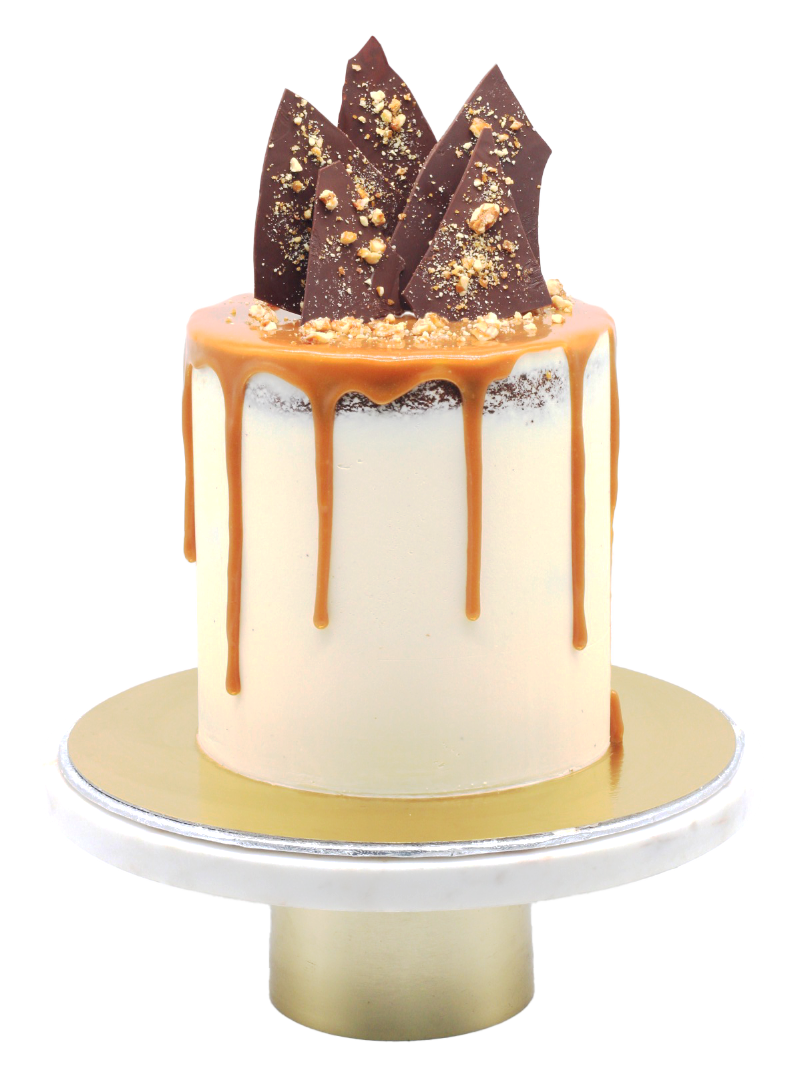 All Signature Cakes are created by stacking three layers of delicious cake with two layers of decadent fillings. The finishing touches of various toppings, both flavourful and decorative, ensure each cake is handmade to perfection to give your special occasion the sweetness it deserves. Choose from our selection of signature cakes below.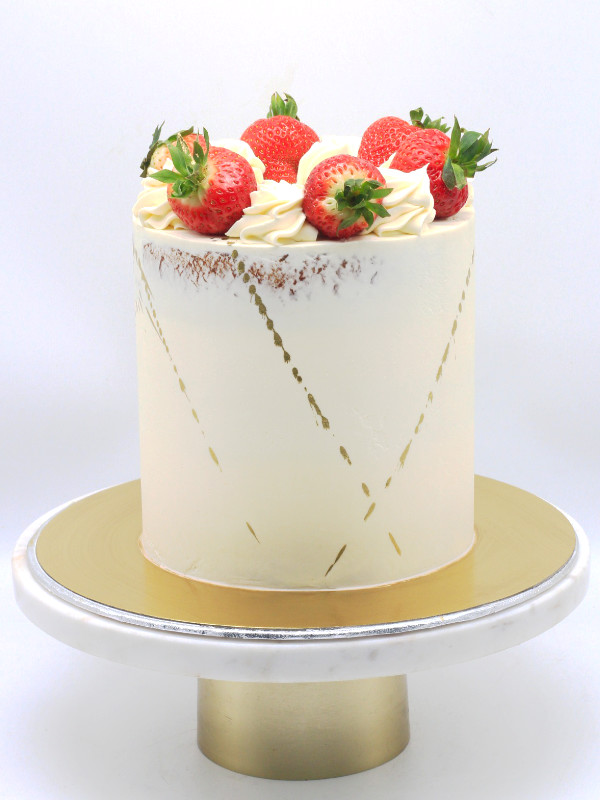 A classic sure to please everyone
Three layers of our classic vanilla sponge cake is filled with raspberry jam and vanilla chantilly cream. A classic smooth vanilla bean Swiss meringue buttercream exterior, topped with piped rosettes and splatters of gold make this the perfect cake for any occasion worthy of celebration.
chocolate on chocolate on chocolate
Our moist and incredibly delicious chocolate cake is layered with our smooth and creamy chocolate cream and rich Belgian chocolate filling. The smooth chocolate buttercream finish, paired with our enticing chocolate ganache drip, gold splattered dark chocolate shard and chocolate macarons, is sure to please the chocolate lovers in your life.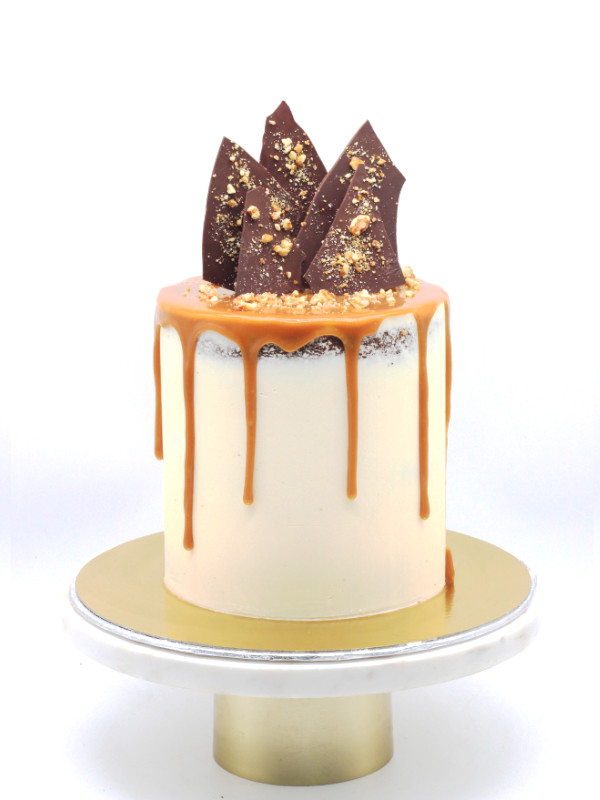 Chocolate, peanut butter and caramel a perfect combination 
Our Chocolate sponge cake is stuffed with layers of peanut cream, lashings of caramel sauce and sprinkles of crushed peanut brittle. A silky  buttercream exterior with a rich chocolate drip, sprinkles of peanut brittle and chocolate shards. This cake will leave you feeling nutty when the craving strikes.
Chocolate hazelnut praline
Pure chocolate hazelnut indulgence
Rich indulgent chocolate sponge sandwiched between layers of hazelnut spread, chocolate hazelnut cream and crushed hazelnut praline. Covered in our silky smooth chocolate buttercream and topped with a chocolate drip, handmade chocolate sails, chocolate macarons and chocolate hazelnut treats. This cake is decadent and is sure to have everyone wanting more.
Raspberry rose and pistachio
An ethnic classic with a twist of raspberry
Four layers of nutty pistachio cake, filled with raspberry conserve, rose cream and chopped pistachios. Subtle rose buttercream coat the outside with rosettes, pistachios and raspberries trimming the top of the cake. This cake is a new favourite.
Raspberry White Chocolate
Layers of vanilla sponge with Belgian white chocolate chunks, topped with raspberry conserve and vanilla cream. Covered in a smooth buttercream, a white chocolate drip and fresh raspberries. Just delicious.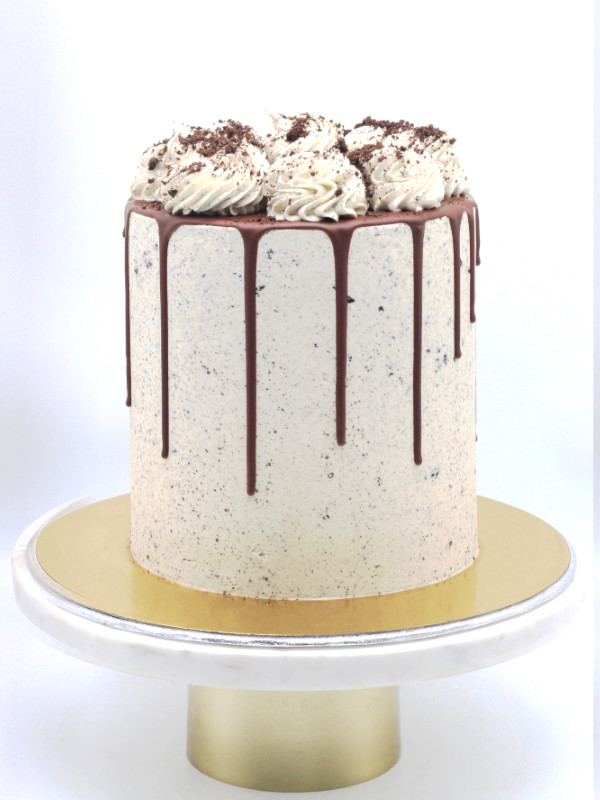 Crunchy. Creamy. Cookie. Cake – need I say anymore?
Moist chocolate sponge filled with Oreo cream, topped with Belgian chocolate ganache and chunks of Oreo to epitomise the flavour. Wrapped in a Oreo buttercream with a rich chocolate ganache drip and Oreo crumble. Why choose between cookies and cake when you can enjoy both together?!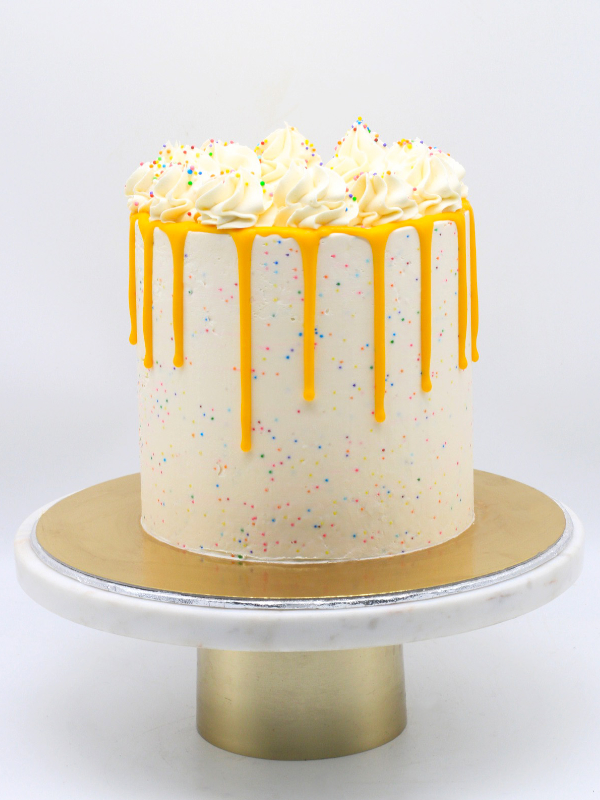 Vanilla Sprinkle Birthday
This cake is singing celebratory wishes
Layers of vanilla sponge cake, loaded with sprinkles creating a fun flair when you cut into the cake. Filled with raspberry conserve and topped with vanilla chantilly cream. Covered in a sprinkle filled vanilla bean Swiss meringue buttercream and topped with piped rosettes, a shower of sprinkles and splatter of gold. This cake is a hit for a child or the child in you. 
*Please note sprinkles, colours and decorations may vary slightly from the pictured design.*
*We can do larger cakes to serve more. Please contact us for details and prices. Please note these servings are for 3 layer slices, however you can serve smaller 2 layer slices for more servings. Our cakes are deceivingly
Our cakes are made-to-order and highly sought-after, so we typically require 2+ weeks' notice for a cake reservation. However please don't hesitate to email us with any last minute orders for the current week. We will always try and do our best to accommodate you and your event! Please fill out the contact form to get the process started. Please note that your order is not placed until you receive confirmation message.
We always recommend getting your cake order in as soon as possible to avoid disappointment. So, as soon as you know the date for your event, send us a message with your chosen cake, to get the process started!
Now that we have the information that we need, we will confirm all design and pricing details via email. Please note that your order will not be confirmed until we have sent you a confirmation message.
On the day your cake will be packaged up in a box (without a lid to ensure there is no damage to the decoration), and can be transported on a flat surface in your vehicle (we typically recommend the footwell of a car). Read about our cake care instructions in the FAQs. Last but not least – enjoy your beautiful cake!
We are here to help you 7 days a week and respond within 24 hours. Plus, you can find most answers to your questions right on this page.